Giovanni Duc, Exterior Designer and Andreas Vang, Interior Designer at Project 3 Mobility gave an interview for Večernji list, a Croatian daily newspaper, where they shared their thoughts on their life in Croatia and designing the vehicle of the future. Their task is not only to create the design of an autonomous electric vehicle, but also to think about its functionality, user experience, and positive impact on the environment and the community.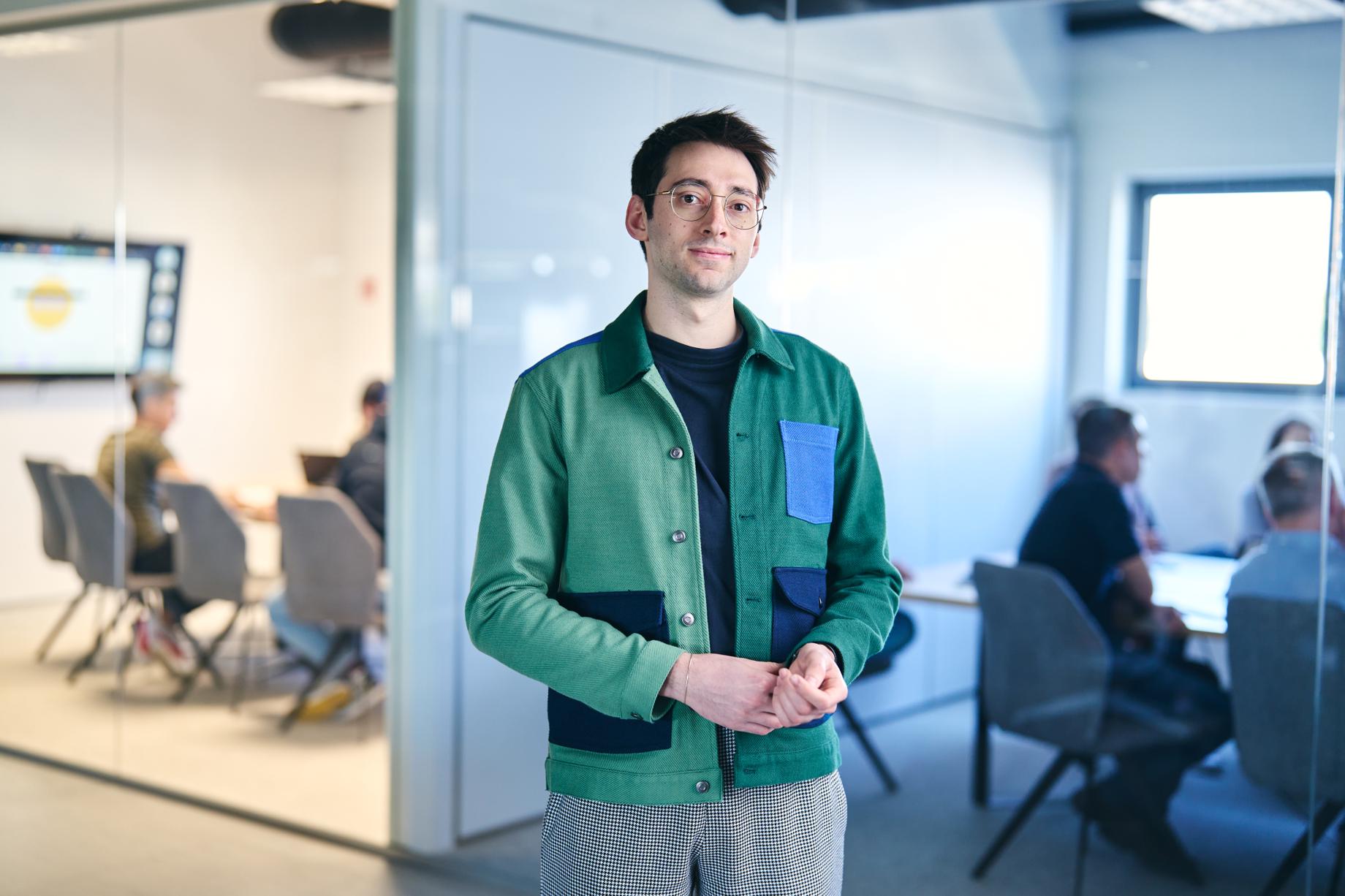 Giovanni Duc, Exterior Designer at Project 3 Mobility
Apart from missing internal controls or them being different, what are other differences between a driverless and conventional vehicle?
Duc: The conventional car as we know it is based around one driver who controls an ensemble of mechanical and electrical devices for it to function. The remaining users are just passive passengers in the vehicle. In a fully autonomous vehicle, the fact that the driver doesn't have primary control over the vehicle means that the ride experience becomes the main focus of the passengers.
Vang: It's fundamentally a different space to enter; a different way of being transported. The fact that the occupants no longer are forced to use their energy and focus on reading the traffic ahead, frees up time to do all sorts of other things or simply to look to the outside world as it passes by and enjoy the ride.
Presumably, there should be less difference when it comes to outside design, but still, what are the main traits differing driverless and conventional vehicle?
Duc: From an architectural point of view, the majority of changes are driven by technology and this counts for generally most electric vehicles. The most important elements of electric vehicles are motors and batteries. The former are substantially smaller than an internal combustion engine, the latter are usually integrated intelligently within the platform. This means manufacturers have less space occupied under the bonnet and can experiment with proportions a bit more freely. A driverless car per se doesn't mean a different exterior design, although we can argue that the appearance of an autonomous vehicle is more emblematic than a regular car. At P3, we believe that an autonomous vehicle has the responsibility of looking safe for both the passengers and every other person interacting with our vehicles like pedestrians, cyclists, or other drivers. The exterior design of an autonomous vehicle must inspire confidence in the technology, must welcome new users to the future of mobility, and, ultimately, express authority and safety.
Vang: As vehicles turn autonomous our relationship with them changes greatly as well. Being self-driving gives the vehicle an opportunity to connect to the passengers in a much more emotionally profound way. For instance, by how it invites you inside, guiding you as you go along - much like an usher or a personal assistant that opens the door for you and guides you to your seat. On the exterior side, an autonomous vehicle's appearance would have to be able to communicate clearly to its surroundings and give confidence in its movement.
Configuration should be more or less the same, what about inside space and luggage compartments, does that change in a driverless vehicle?
Duc: The space inside is where true innovation comes into place. In an autonomous vehicle, contrary to any conventional manned vehicle, the experience of the passengers is the main driver of the development of the interior. In our team, we focused most of our efforts on an interior, in which anyone can feel at home.
Vang: In some ways it does, but our idea is that the interior cabin becomes your own personal cocoon, where the occupants have the freedom to do what they want or just enjoy the ride. Also, the vehicle will have enough space to bring luggage into the cabin.
Perhaps the biggest challenge is to hide all the instruments vehicle uses to move. How is this done, does the vehicle lose any of its traits?
Duc: On the contrary, any technical challenge which AVs pose becomes a challenge we happily take on. This concept isn't that foreign to car design at all. Every technical innovation or necessity, like they were hybrid powertrains, LED lights, or even airbags, for a designer becomes not only a challenge but also an opportunity to innovate. And just like these now-conventional technologies have brought innovation to the styling of cars over the past decades, Lidars and cameras will influence new ingenious designs in the near future.
How did you get to know about P3 Mobility?
Duc: I originally joined the Rimac Design Team, and soon I got the opportunity to work on this very interesting project which was being brought to life by a handful of extremely talented people from different departments. As soon as I met the team and the very first idea of the project was explained to me, I was fully on board. The extremely innovative nature of the project and the context in which it was being conceived made P3 the most appealing project any young designer can dream of being part of.
Vang: I got to know about it through a post in my universities' alumni group where a former colleague reached out, looking for designers to join an exciting new start-up in Croatia. Through several interviews, I got to learn about the intriguing nature of the project - and I was immediately hooked!
What are your impressions of Croatia and Zagreb?
Duc: I am Italian and, before moving to Zagreb, I lived for two years in Germany. Surprisingly, I never found it difficult to adapt to other countries' cultures or habits. Ultimately, European countries are not as different from each other as we believe them to be and, with a bit of open-mindedness, anyone can easily find themselves at home anywhere across the continent. This said, to be fair, living in Croatia for me is probably easier than most of my foreign colleagues. In the end, Italy and Croatia have a lot in common so I hardly feel homesick. Croatian people have always been very cheerful, warm, and welcoming to me.
Vang: Being from Denmark, and spending several years in the UK, Germany, the Netherlands, and Sweden, it's been surprisingly easy to settle into living in Croatia. People here are very welcoming and warm - and the country itself is beautiful to travel around in. Additionally, it's also worth noticing all the similarities between Denmark and Croatia. For example, small population, plenty of coastlines, Croatia had Kuna and Denmark has Kroner, which has almost the same value, both countries excel in sports that most other countries don't care too much about. No wonder I feel at home here!
What about your Croatian colleagues, what is their current level of expertise in this field?
Duc: One of the aspects of working at Project 3 Mobility that I appreciate the most is the opportunity to interact with experts which, in a conventional automotive design studio, I wouldn't have a chance to work with. The variety of facets of which the business is made means that our team requires a heterogeneous, diverse, expert group of people, each bringing their own expertise to the table. Our team counts employees with experience not only in the most prestigious automotive companies but also in renowned e-commerce platforms, financial consulting firms, and telecommunication providers, all the way to the European Parliament. The secret of our brilliant team is the ability to bring together an extremely diverse body of people with a wide spectrum of ideas, approaches, and capabilities.
Vang: Compared to other companies, one of the main benefits of working at P3 is the openness of the organisation, meaning that everything is very transparent, easy to reach out and gain insights from colleagues working in a different departments. Not only is the expertise very high, but so is the energy, implying that challenges are taken on with a DIY mentality - an essential quality for a start-up.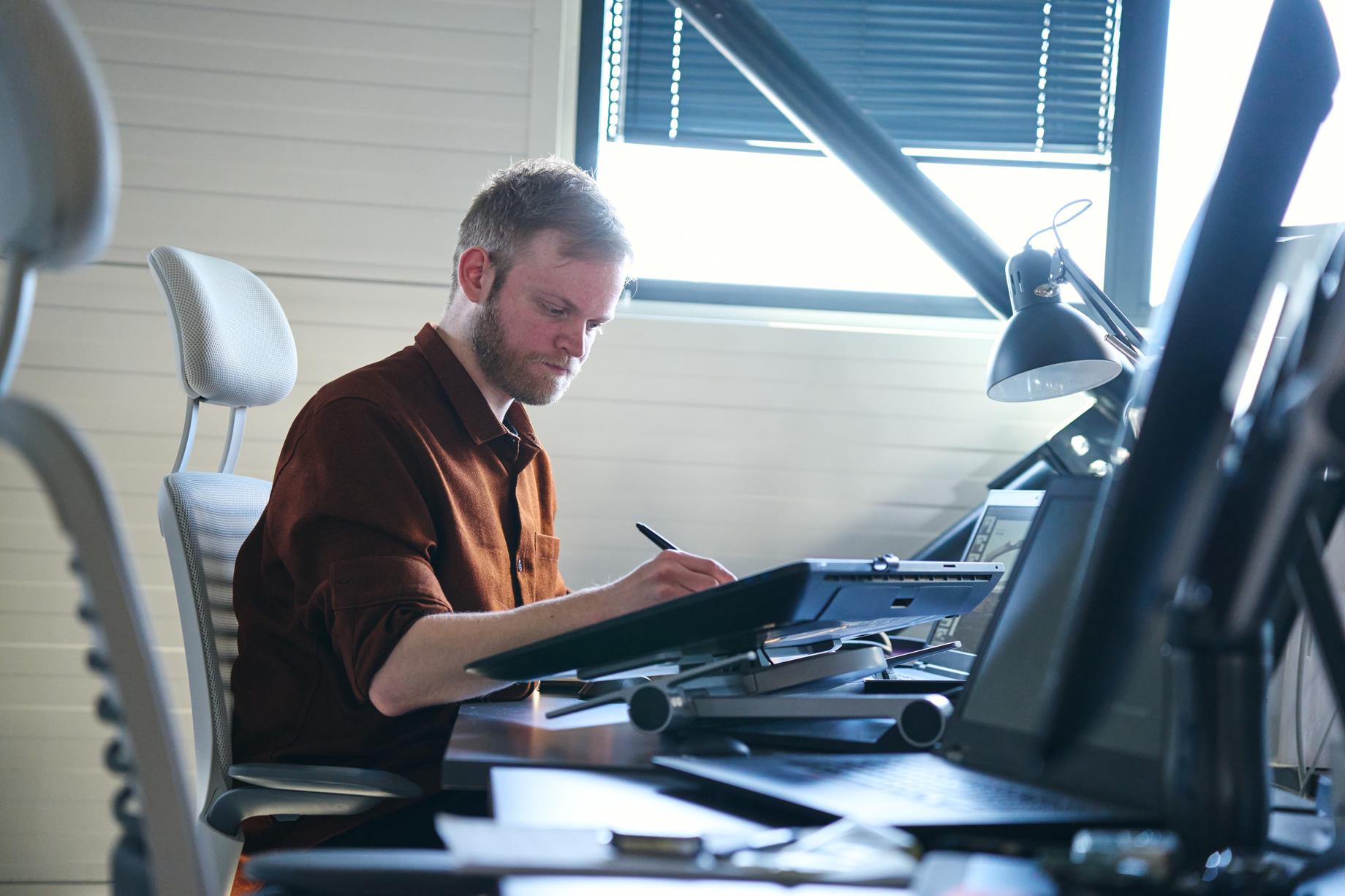 Andreas Vang, Interior Designer at Project 3 Mobility